In order to be irreplaceable, you have to be unique
I love wearing high heels, otherwise I go barefoot. Everything that is beautiful and refined is my kind of thing. From scarves to fine jewellery, from old-fashioned handbags to Persian carpets and the most precious silks… I prefer home cooking but don't shy away from exotic flavours. I love the sea, the countryside, the cities of art. I like worldliness, but also privacy, good manners and spontaneity. I love music and theatre. I am always looking for the perfect combination of harmony and beauty, simplicity and flair, luxury and sophistication. I am an idealist and a dreamer. Heart, passion and determination are the leitmotif of my life.
Bespoke, made-to-measure inspiration and elegance
Bespoke means tailor-made, created ad hoc. In sartorial jargon, from which the word is derived, bespoke indicates a unique creation. This is the mood we are inspired by for events and weddings. Our mission is to sew the event onto the bride, groom and guests the same way a tailor cuts fabric after marking it with chalk. This is why we like to talk about bespoke flair and elegance. For us, Bespoke means, above all, listening attentively to the customer's needs, understanding his/her requirements and expectations, imagining, designing and creatively shaping environments whose fittings and style translate his/her ideas. This is the only way to create unique and exclusive events whose design must take into account new trends, shapes, colours and materials.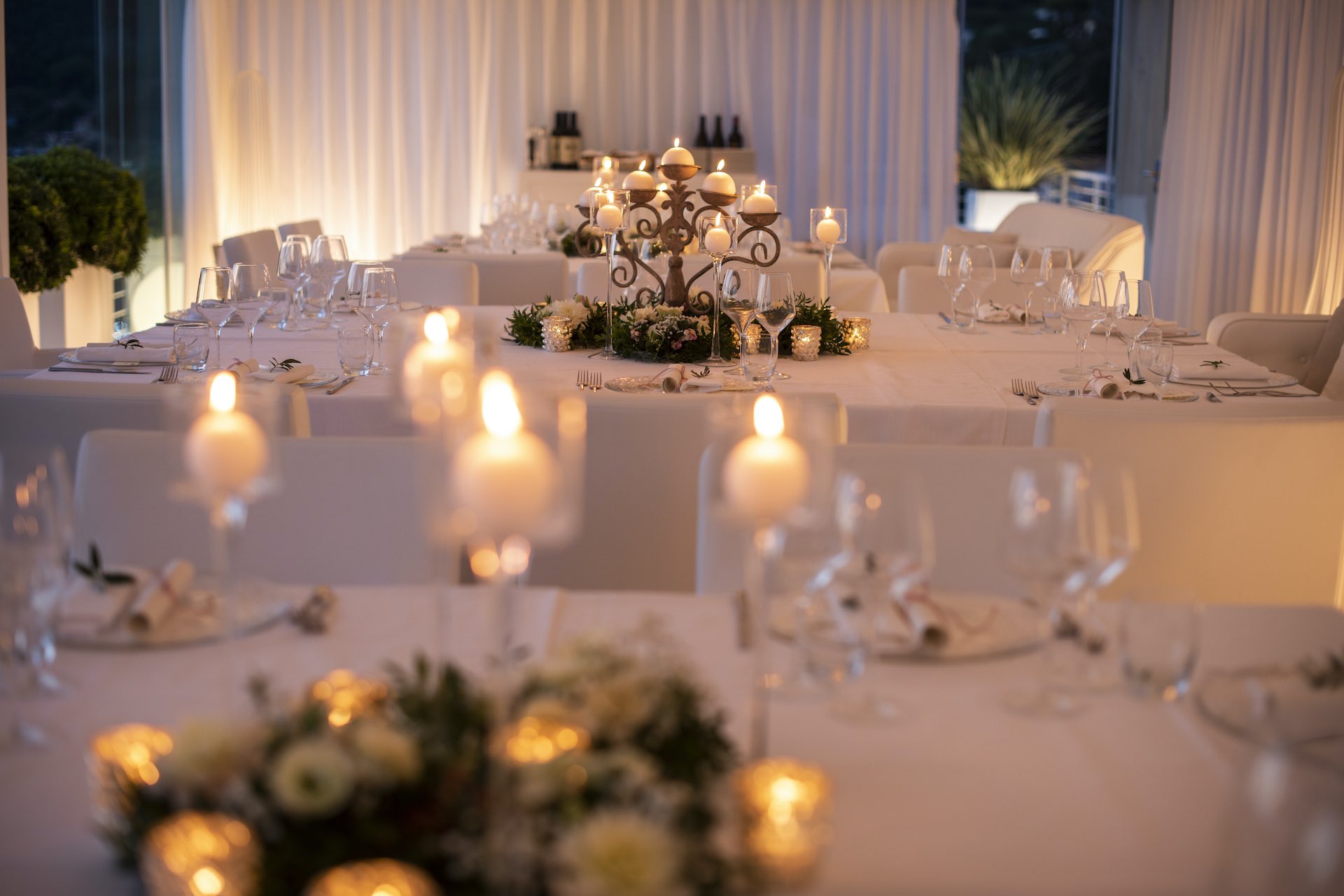 Every great project grows out of a shared emotion
I was born on the island of Elba, a land with which I am deeply in love. Since I was a child, the piano has been my life companion and I spent many hours of my childhood and youth playing it, making sacrifices to achieve my goals. Music made me discover and encounter the sublime, a sublime that goes beyond beauty, capable of making every art form an enveloping, emotional, ethereal experience. What I am today is also the fruit of a journey of experiences, always accompanied by the moral legacy of my parents and grandparents, both maternal and paternal, my artistic flair, my intellectual restlessness and my strong determination. I am an Aries! As a child I did not know what I wanted to do when I grew up, but I knew what I did not want to do. I was 'hungry' for curiosity and always driven by a strong desire to test myself. After obtaining a diploma in piano, I enrolled at the D.A.M.S. in Bologna where I graduated in Literature and Philosophy, presenting my thesis on "Managerial and administrative aspects of a Theatre of Tradition: the Teatro Verdi in Pisa". That was one of the best periods in my life because in addition to experiencing the Florence of the movida, where I lived until I was 33, I attended courses in art history, score reading, acting, theatres, cinema and everything else that intrigued me. Of all the most important training experiences I had in the Tuscan 'Cradle of Art', my proudest memory is of attending the professional training course for 'music events operator', promoted by the Region of Tuscany, taught by two great men who made a huge contribution to my training, as well as my personal and professional growth: Sergio Miceli, Ennio Morricone's biographer, and Riccardo Bozzi, director and manager of the Teatro Verdi in Pisa. After graduating, my innate aptitudes took over: a strong predisposition for public relations, work organisation, event planning and design. Art and organisation, the perfect combination to fully express my dynamism and thirst for beauty.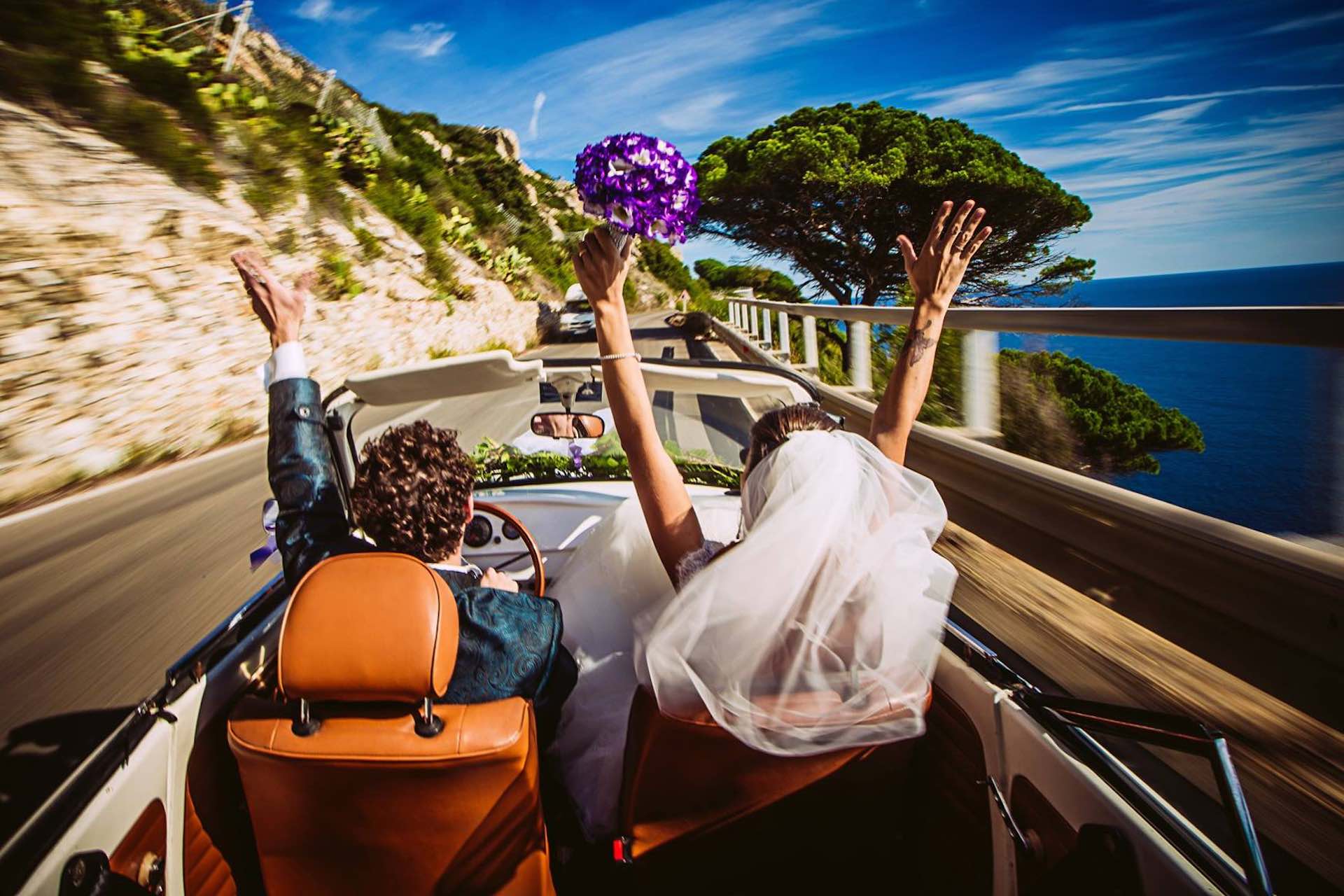 After an interesting job opportunity at the Tuscan Archipelago National Park  which lasted almost 3 years, I embarked on a self-employed career, creating MinervArte Eventi d'Autore (today only my story and my company name), with the desire to make use of my training and my professional skills to organise concert seasons and festivals. I have organised many exhibitions and concerts, and for many years I was responsible for the artistic direction and organisation of two important events, the "Isola d'Elba R. Brignetti International Literary Prize" and Notte di Stelle a fashion, art and entertainment event that I created in 2005. I first began organising weddings in 2008, feeling an intense and exciting passion for this aspect of my business. A passion that I will never forget, laced with all the beautiful emotions I have experienced thanks to the many Italian and foreign couples who have believed in me and allowed me to tell their stories through art, imagination, passion for beauty, dedication and love for detail. Tania Cagnotto and Stefano Parolin made another dream of mine come true: I organised their wedding, which could only be inspired by the sea of the island of Elba where they fell in love. My story continues with international private and corporate events where I have achieved more and more ambitious goals. In 2009, I faced a new challenge: launching an editorial project to tell the story of the island of Elba and the Tuscan Archipelago. The tourism promotion magazine Elba Per2 was created where the mirror image of the number 2 forms a heart and where the 2 seahorses on the cover, the ultimate symbol of love, become the emblem of an ambitious dream: to tell the story of insular and romantic Tuscany.  This path allowed me to get closer to the tourism sector, participate in B2B meetings and national and international fairs, organise and staged events at the Italian embassies in cities such as Vienna, Prague and Warsaw, to enter the world of the wedding industry, specialising in destination weddings. For this reason, in March 2020 I attended the "Destination Wedding Educational" course held by Alessia Santa and Andrea Naar Alba, 2 internationally renowned destination wedding planners, and I joined "Tuscany for Weddings" and "Italy for Weddings" as a partner. In 2020 I was proclaimed the best wedding planner in Tuscany by the prestigious "Italian Wedding Awards", created to reward excellence and professionalism in the Italian wedding industry.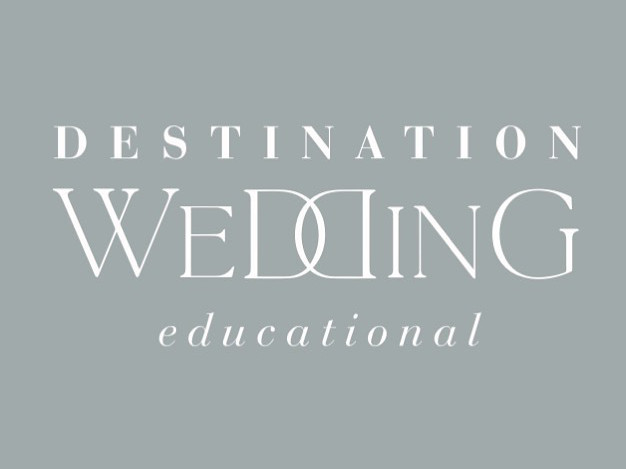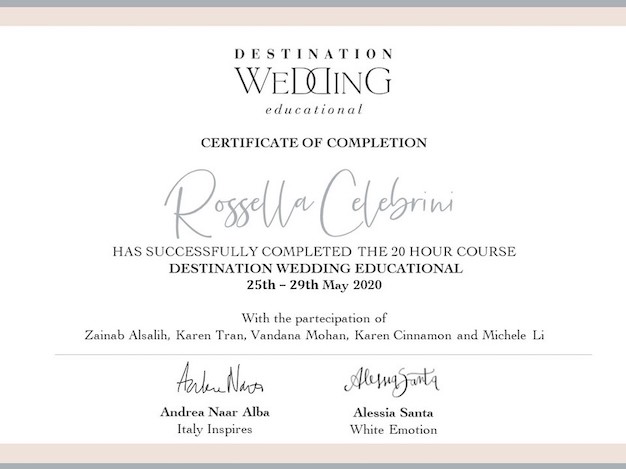 My life has been a chain of educational and professional experiences that have nurtured, shaped and developed my creativity over the years. They have fuelled my passion for design and floral design (for which I attended a course in Rome), and for a concept of beauty that speaks of uniqueness and exclusivity. This is to the story behind Rossella Celebrini Events, whose leitmotif is to make the dreams of my couples and clients come true, and to achieve the impossible for them. Today I live between the island of Elba and Florence, where I am resident, the place I consider my second 'homeland'.
With talent you win games, but it is with teamwork and intelligence that you win championships
Alessandra and Cristina are two key professionals in the team. Their passions and their character aspects are an important resource for our brides and grooms and clients. They are both a source of inspiration, suggestions, solutions, original and functional ideas. However, their professionalism and skills do not neglect the human aspect of our work. What also sets them apart is the sensitivity and discretion with which they empathise with our clients. They consider every event an important occasion, a unique experience generating emotions to be etched in the participants' memories forever.
Alessandra Tozzi was born on Elba, a corner of paradise to which she is strongly attached. She began studying at the Faculty of Medicine to follow in her father's footsteps, but after several years, the artistic vein she had inherited from her grandfather, a post-Macchiaiolo painter, who had been very successful in Italy and abroad, took over. For a short time, she lived in Milan, a city that fuelled her desire to travel, taking her away from Elba for long periods. Once her thirst for knowledge had been quenched, she once again heard the call of the 'rock', as it is called by those born on the island, which brought her back to her home forever. As a sports fan, she sees Elba as a real open-air gym, where she can enjoy adventurous treks along the mountain ridges, and spectacular mountain bike rides, and swim in the crystal-clear waters, all year round. She expresses her artistic flair by photographing the splendid sunsets that Elba offers every day and has created a dream-inspiring Instagram profile. Her meeting with Rossella Celebrini, a friend from her childhood and youth, was an opportunity to put her innate flair for beauty and public relations to good use. As well as collaborating as editorial coordinator for the tourism promotion magazine Elba Per2, she works alongside Rossella in her job as event organiser, taking particular care of the artistic design aspect, creating precious sketches, and expressing her art in the floral arrangements, where, like a painter, she uses the palette of colours that nature has given us.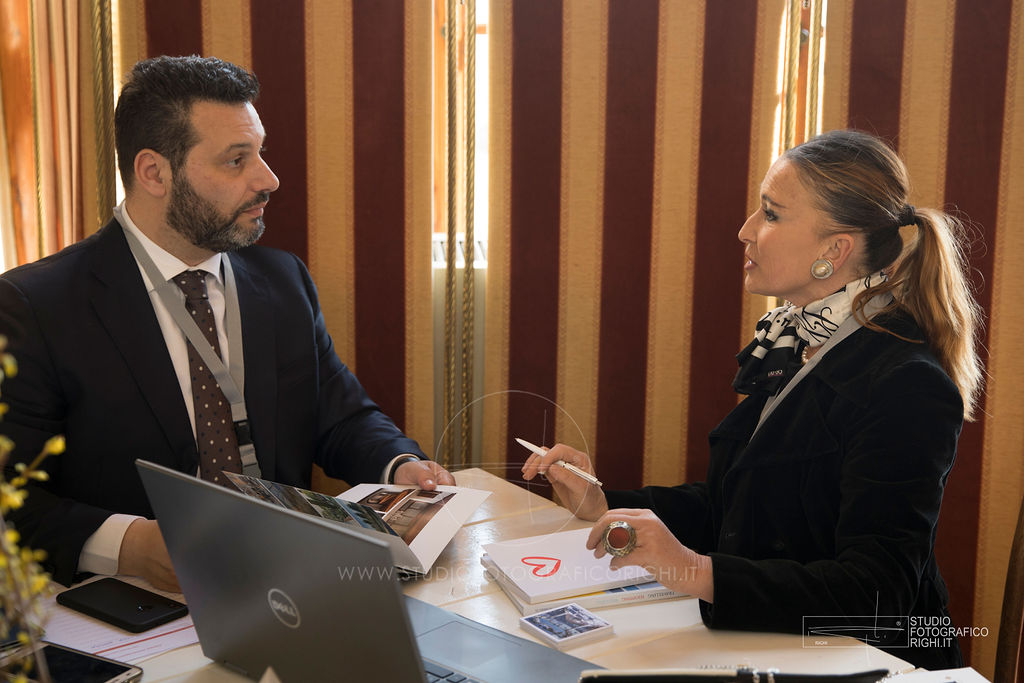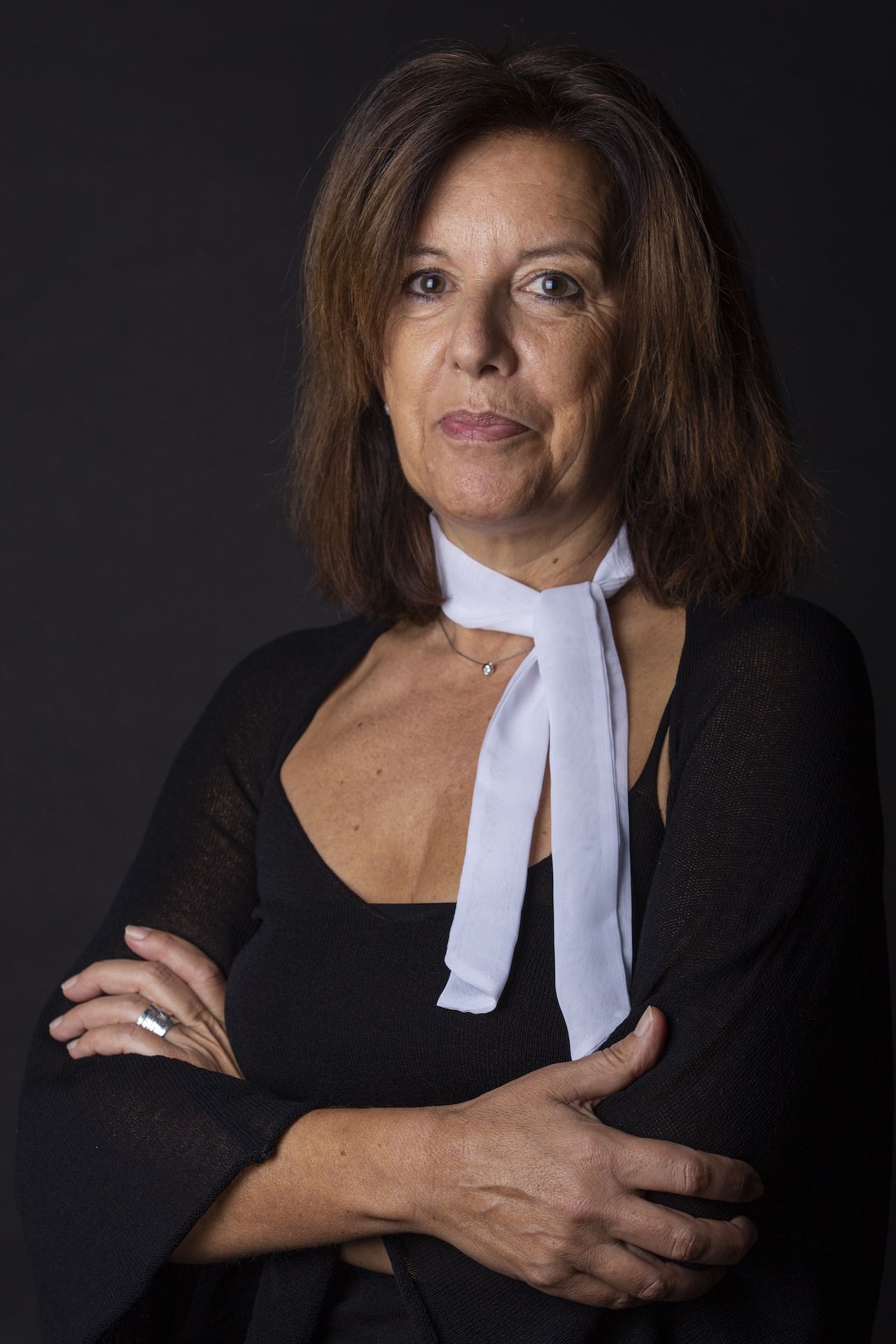 For Cristina Paroli, travelling has always meant adventure, but also a path to knowledge and personal growth. She was born in Teglio, in Valtellina, a mountainous area, but her strong desire to cross the valley and discover the world led her to Milan at the age of 13, where she later graduated as a tourism expert. Since then, her life has been full of travel experiences that have led her to explore all 5 continents, but she is most strongly attracted by islands, first and foremost the isle of Elba, whose charm literally captivates her. She adores its scents and colours and is moved by the extraordinary scenery it offers her every day. Here she began building her future. She worked for many years with the Della Lucia family, for whom she managed a Residence, and then for the De Ferrari family, working at Hotel Hermitage, the most prestigious hotel on the isle of Elba. Here, she experienced the world of luxury and acquired key skills for managing weddings, events and congresses. More than 30 years of experience in the tourism sector have helped her bring to the team her knowledge of hôtellerie, which allows her to also manage the hospitality aspect of event organisation. Her abilities do not betray her Nordic origins: method, precision, flexibility, punctuality, qualities that are essential for achieving all objectives.